« Shows & Personalities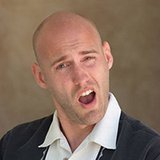 Parker
On Air:

Monday - Saturday, 2pm - 7pm

Email:
Parker was born in Michigan, but he's been a Hoosier transplant for many years. After a long stint in Ft. Wayne, he spent some time in Los Angeles before ending up back here in Indiana. While in L.A. he studied Improv comedy with the Groundlings, where "Flo" from the Progressive commercials was one of the instructors.

He spent high school cranking 311, Nirvana, Foo Fighters, Beastie Boys, STP, Alice in Chains and Green Day from the speakers of his 1987 Grand-Am (Built in his hometown of Lansing, by the way)

Parker enjoys burritos, hitting the gym, video games, hockey, disc golf, soccer and other activities you would see in a generic bio.