« Shows & Personalities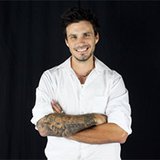 Jake Kelly
On Air:

Weekdays, 5am - 10am

Email:
Hello visitor and welcome to the Jake Kelly Profile Page. I would guess you're here to find out exactly how to make your very own "Jake Kelly On-Air Personality."

If that's the case, you're in luck! I have dedicated this whole page on divulging the key personality ingredients and secrets that have been kept hidden from the public for centuries. Here you will find exactly what you need to make your very own at home "JKOAP."

Let's get started.

You need to find a father that made it through the war and loves dark haired waitresses. You need to find a mother that finds a weird looking man that likes to tuck his shirt into his underwear attractive. You need to mix number 1 and 2 together with 3 bottles of wine and bake for 9 months. Carefully take out your new "JKOAP" from the oven, tap gently, place on soft surface and let it cool for a few months. After the cooling takes place, it's now time for the key personality ingredients. This is where the competition have tried and failed because they didn't know what you're about to find out. The secret! The secret personalty ingredients that when mixed together will make a perfect "JKOAP" every time.

Find large bowl, place your "JKOAP" in bowl and sprinkle the key personality ingredient listed below. (The list has been placed in alphabetical order for your convenience)

Acting younger than age (5 tbsp)
Beer (1 cup)
Collecting spoons..... (2 dashes)
Dungeons and Dragons (4 cups)
Eating more calories than he burns (6 gallons)
Fear of public restrooms (6 gallons)
Giving high fives (5 1/2 cups)
Hatred for Kelly Ripa (23 cups)
Incredibly disappointed in Drew Carey as Bob Barker's Replacement (13 tbsp)
Jealousy of Jennifer Lawrence (because of wanting to play Katniss) (29 tsp)
Keira Knightley obsession (14 cups)
Love for Brad Pitt (8 cups)
Misplacement of car keys constantly (-3 1/2 cups)
Not a fan of Demi Lavato (13 tbsp)
Obsessed with Keira Knightley (1 tsp)
Peeing outside (5 1/2 gallons)
Quick eater (2 tbsp)
Really likes reading (3 pints)
Sorta likes Mini Coopers (4 tbsp)
Tattoos (74 cups)
Un-attracted to overly buff women (2 1/2 gallons)
Very obsessed with Keira Knightley (12 cups)
Waking up to bacon (10 tbsp)
Xtra sensitive on movie subjects (14 pints)
Yoga pants (on women not men) (12 pints)
Zombies (2 cups)

Mix key personalty ingredients into large bowl. Let sit and watch the magic happen. Remember, equal parts of water, sunlight and re-runs of "Saved by the Bell."

As you watch your new "JKOAP" start to grow, you will find him wanting to experience all the things in life right away. I encourage you to let this happen!

Be careful, be strict and have fun.

P.S. If your Jake Kelly ever sets the Couch on fire at age 11... Please go easy on him.